CITY News International -- CNI: A Project by the 1ere English EURO
Par Frederique Jarre, publié le lundi 20 novembre 2023 15:54 - Mis à jour le lundi 27 novembre 2023 16:07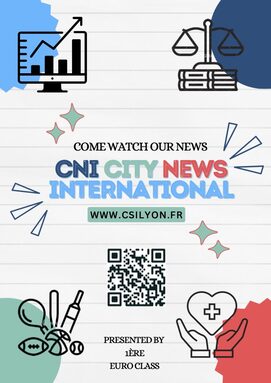 Introducing City News International (CNI): A Project by the 1ere ENGLISH EURO
City News International:
We're thrilled to present City News International (CNI), an innovative online news show that's the pride and joy of our 1ere ENGLISH EURO class. This project is more than just a school assignment; it's a reflection of our passion and determination to redefine the landscape of digital journalism.
From Classroom Idea to Digital Reality:
The story of CNI began in the classrooms of the 1ere ENGLISH EURO. What started as an idea soon blossomed into a full-fledged project, combining the diverse talents and interests of our students. Together, we've crafted a platform where news is not just told but experienced.

A Mosaic of Global Issues:
CNI stands out for its broad and diverse coverage. Our students have delved into a variety of important topics, ensuring there's something for everyone:
- Health: Delving into the latest medical research, public health issues, and wellness tips.
- Business: Analyzing global market trends and offering insightful financial advice.
- Politics: Offering a balanced view of the political scene from corners across the globe.
- Sports: Bringing alive the excitement from various sports, capturing the essence beyond scores and stats.
The Spirit of Collaboration:
This project is a testament to the collective effort of our class. Each student has contributed their unique skills, from in-depth journalistic research to technical know-how, ensuring a seamless and engaging viewer experience. The visual identity of CNI, designed by our students, captures the essence of our vision, and our budding communication experts have played a crucial role in reaching out to a wide audience.
We warmly invite you to be a part of CNI. Each week, we bring stories that matter, told in ways that engage and inform. As our audience, your participation and feedback are invaluable, helping us shape the future of this venture.
City News International is more than just a news show; it's a vibrant community, born from the minds of the 1ere EURO ANGLAIS class. It's a place where young perspectives meet the vast world of journalism. We can't wait for you to join us in this exciting new chapter. Welcome to CNI – where news is crafted with passion and purpose.
1ere ENGLISH Euro 2023-2024
Younes SAADNA
Lamiaa KHALLOUQI
Selma DHAHRI
Mohamed BENMESSAOUD