Jeunes en librairie, première euro anglais
Par MARIE ANGE JACQUARD, publié le jeudi 25 mai 2023 16:28 - Mis à jour le mercredi 31 mai 2023 11:30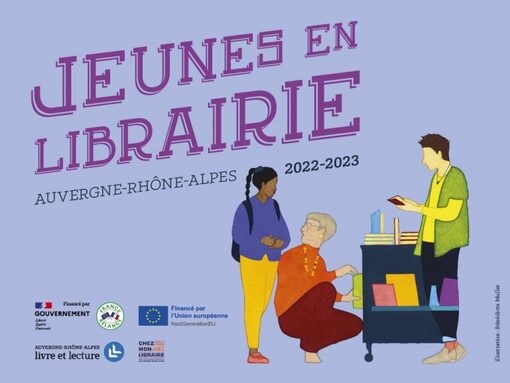 Jeunes en librairie est un dispositif d'éducation artistique et culturelle qui permet aux jeunes de découvrir les librairies et leur rôle essentiel dans la chaîne du livre.
La classe de première euro anglais a participé à ce projet en partenariat avec la librairie Damn Fine Bookstore. https://damnfinebookstore.com
Voici le compte-rendu rédigé par les élèves de la section.
On Monday the 15th of May, we met with Fiona, the owner of Damn Fine Bookstore, the International bookshop she opened in Guillotière in September 2020. She named it after  the line" a Damn fine cup of coffee!"  from the  90's TV show Twin Peaks as there is  a coffee shop inside the bookshop, something quite unusual in France.  We had the chance to discuss with Fiona and ask her about her work, the creation and the organization of the shop  but also more personal questions about her training, her tastes and the books she would recommend.
Since childhood, it had been Fiona's dream to be a bookseller and since she prefers English literature over French literature, she decided to sell books in English. She had no specific training for that, she did not go to the "Ecole des Libraires" in Paris, but she got first-hand experience working in bookshops and bookfairs.  However, she needed a lot of determination to convince the banks to lend her the money she needed for her shop as they did not believe her project would work.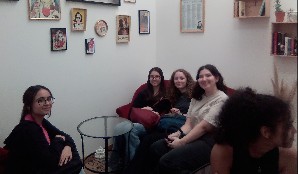 She chose Guilliotière because it is a very lively district, with schools and universities nearby. Plus, the rental price is lower, and unlike in Vieux Lyon, there are no rules about heritage sites there, so she did not have to ask for permission to renovate. With the help of her boyfriend, Fiona has managed to create a very cozy and nice vibe, with  second-hand furniture and  her grandmother's coffee cups (see pictures below).
Most people who come to the bookshop are American or Irish expats and French people from varied age groups , from students to retired people . Fiona adapts her language to her customers and speaks mostly English or French.  She  also has a smaller selection of books in Italian, German, Portuguese  and Spanish as she wanted to make it easier for foreigners or people who can speak another language to find books in their own language, something you cannot easily find in Lyon. 
We can think that opening a bookshop can be hard (and it is) because of the competition with major chains  like Amazon, and Fiona admits she cannot actually compete with them, but she is doing her best for her customers, offering them a different type of service, personal advice …. and coffee! Yet, she says running the bookshop is her job, not a hobby. There is nothing romantic about working in a bookshop as movies would make you believe, and you learn as you go.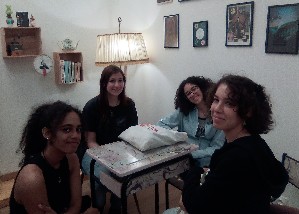 She imports the books directly from a supplier in England (with a 30% discount) and then sells them at the price set on the cover. Unlike France, where all books are sold at the same price, book prices can vary in England and booksellers choose what price they want to sell their books. With Brexit, things got a little tense at first, but everything is OK now and as a professional, she doesn't have to suffer from any delays anymore. It usually takes one week for her orders to arrive, and she loves to open the boxes, she says it is like Christmas every time! On average, she makes a 1% profit on book sales, which is not a lot, and is also what the authors get! 
Most of  the books she sells are books she has already read , likes or would like to read… She also thinks about who will like the book or not. Obviously she cannot read all the books she orders but she tries to sell different genres. Unfortunately, there is not enough space, so she has to make choices. And if she does not have the book you want at the shop, she can order it.  
Fiona is very active on social media, especially on Instagram (@damnfine_bookstore) where she recommends books but also promotes the book clubs that are organized every month at the bookshop: she picks a theme, and people who take part have to bring a book related to it. There is also an actor who comes to celebrate Shakespeare's plays. She recently organised a meeting with writer Sarah Thomas from Iceland, yet organising events like this can be very expensive. 
Her favourite genre is character driven literary fiction, which tells more about everyday life, like On the savage side, by Tiffany McDaniels.
To young adults she would strongly recommend Heartstopper by Alice Oseman, or Daisy Jones and the 6, by Taylor Jenkins Reid.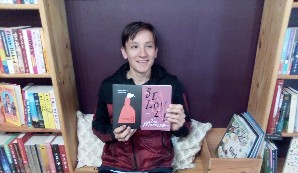 We ended with a short discussion on banned books in the USA, some of which you can find in her shop, like Milk and Honey, All boys aren't blue or Gender queer.
We could really feel that Fiona loves her job and she says that what she likes most is talking with the customers and  giving them advice.
All the photos were taken on May 24th when we visited the bookshop.